Ethics and Compliance
GPA COMPLIANCE PROGRAM
At GPA, our principles have always included respecting all laws and regulations and a firm commitment to ethics and integrity.
We all believe that by DOING THE RIGHT THING IN THE RIGHT WAY, we contribute to the development of a sustainable business environment and to a fairer and more solidary society. We know that our success depends on our reputation and on relationships of trust between us and our clients and business partners.
To ensure that our activities our guided by a culture of upstanding and ethical conduct, we created the GPA Compliance Program. This program is supervised by senior management and based on the following elements: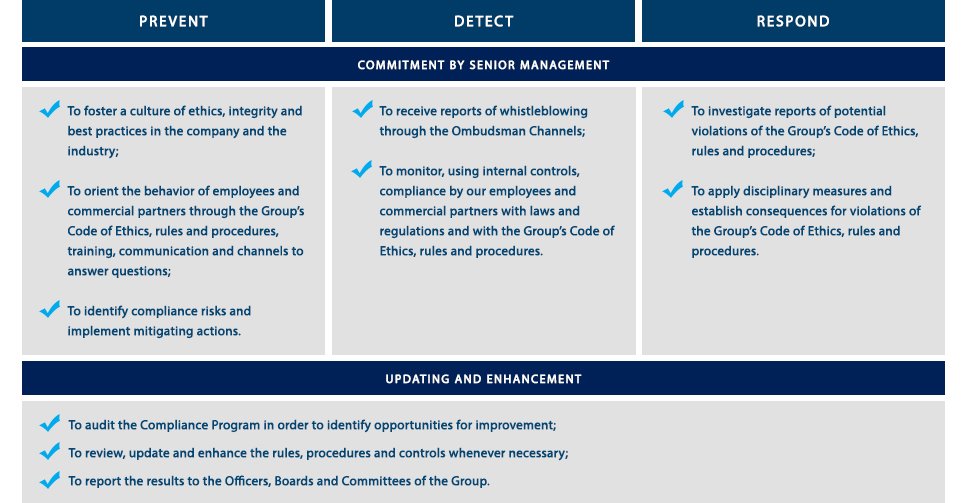 RULES
The rules and procedures of our Anti-Corruption Law Compliance Program establish guidelines for orienting the decisions and activities of our employees and commercial partners.
Our Code of Ethics presents GPA's main guidelines related to the conduction of our business, while our Anti-Corruption Rules establish general guidelines on anti-corruption practices and contribute to compliance with existing legislation, especially Federal Law 12,846/13, Decree 8,420/15 and the United States Foreign Corrupt Practices Act (FCPA).