Sustainability Reports
Since 2008, GPA publishes its Annual and Sustainability Report, presenting the main achievements and highlights of each year.
Current Annual Report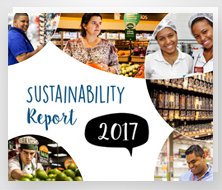 This issue of the GPA Sustainability Report brings together the main achievements and results of the Company in the period from January 1 to December 31, 2017. The sustainability indicators were elaborated according to the global methodology used by the Casino Group. The content accompanies the materiality study updated in 2017 (see more in chapter The Context of Sustainability), in which the priorities were reanalyzed and revalidated, considering the context and the impacts of each.