Sustainability Reports
Since 2008, GPA publishes its Annual and Sustainability Report, presenting the main achievements and highlights of each year.
Current Annual Report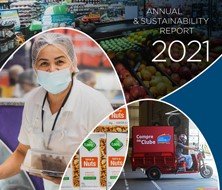 This edition covers the period between January 1 and December 31, 2021 and presents how we practice our strategic vision of sustainability. The content was built based on the ten most relevant topics listed by our relationship publics to generate value of our business in the short, medium and long term. Sustainability indicators follow the internal guidelines of the Casino Group Corporate Social Responsibility Reporting Protocol.
ACCESS GPA SUSTAINABILITY REPORT 2021>