Animal Welfare
Our business is transformation
Transformation so that we can increasingly contribute towards healthier and more sustainable production and consumption.
For GPA, our value chain is an essential part of this process. Hence, to be a part of the everyday lives of millions of Brazilians, we need to create possibilities and inspire new ways of consumption that respect the environment, people and animal welfare. We strive to build a more sustainable chain by engaging and developing our suppliers, monitoring and controlling processes and practices, and by using communication to raise awareness about conscientious consumption. One of our top priorities is animal welfare. Our commitments are guided by the laws and regulations in force, as well as the five animal freedoms defined by the Farm Animal Welfare Council (FAWC):
1. Freedom from hunger and thirst;
.
2. Freedom from discomfort;
.
3. Freedom from pain, injury and disease;
.
4. Freedom to express normal behavior of its species;
.
5. 5. Freedom from fear and distress.
We believe that joint efforts with our suppliers and clients is essential for us to build the future that we all want.
OUR COMMITMENTS: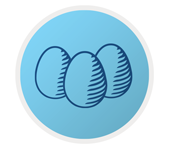 EGGS
Back in 2017, GPA was the first Brazilian food retailer to sign a commitment to animal welfare in the egg chain, which established that by 2025, 100% of the eggs sold under its private-label brands will be cage-free eggs. The same year, it became the first retailer to launch a line of cage-free hen eggs under its private-label brands.
Throughout these years, we have enhanced our efforts in this direction through actions such as supplier development, collaborative efforts with other players in the chain, raising awareness among consumers and supplies to stores. As a result, in 2020 we reached a 31.2% mark in the sale of cage-free eggs in Exclusive Brands, with an increase of 6 p.p. over the previous year, evolving year on year. We also continued to represent the sale of cage-free eggs from other brands, accounting for 26% of the total sold by the category. With that, we reached 28.5% of cage-free eggs sold in our stores.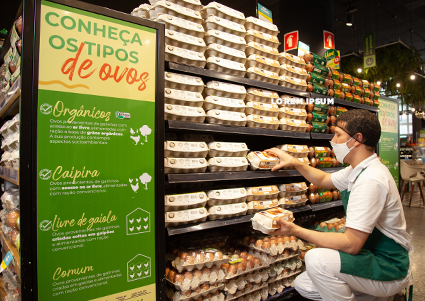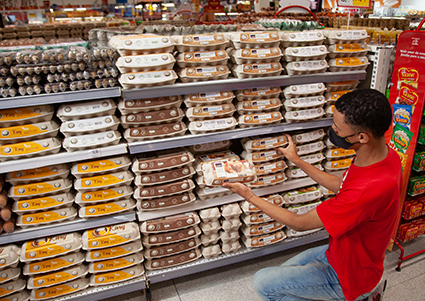 Driven by this progress, we raised our target for all other brands sold at Extra, Pão de Açúcar and Compre Bem. As such, 100% of the eggs sold in both chains will be sourced from cage-free hens by 2028.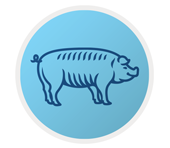 PORK
We sell at our stores diverse products from the pork chain, which are present in the daily lives of our customers. In line with our commitment to animal welfare, by 2028, 100% of the pork sold in all shapes and sizes at our Pão de Açúcar and Extra stores across the country will come from suppliers that follow animal welfare practices. This commitment covers all brands sold by GPA, which includes its private-label brands and those of third-party suppliers.
To guarantee the health of pigs through proper physical and psychological conditions, besides respecting their natural behavior, the Company's commitment also covers improvements concerning the following handling practices by 2028:
• Transition to collective farrowing by the end of 2028*;
• Abolition of animal identification using ear notches;
• Abolition of surgical castration and replacement with vaccine-based castration (immunocastration);
• Tooth-clipping or tooth-grinding of animals will be used only when addressing cases of dire needs, when aggressive interactions and injuries are detected between animals;
• Environmental enrichment requirements at different stages of production to foster recreational and exploratory behavior of animals and prevent stress;
• Commitment to exclude beta-agonists in private-label brands. For other suppliers, we will roll out a plan to monitor the rational use of antibiotics.
*Gestation in individual stalls after 2028 have a maximum number of days accepted, which will be detailed in GPA's Animal Welfare Policy.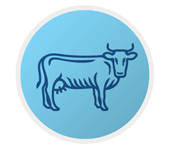 CATTLE
One of our main concerns is about the source and quality of the beef we sell at our stores. That is why, we established a Social and Environmental Beef Purchasing Policy in 2016, which sets out the criteria, rules and guidelines that must be followed by all our beef suppliers.

For our private-label brands, we already offer 100% of the products with traceability on shelves, right from cattle insemination, and social and environmental monitoring (covering the legal, environmental, social, economic, animal welfare and traceability aspects). And by 2025, 100% of Pão de Açúcar suppliers must have made a public commitment to the animal welfare policy.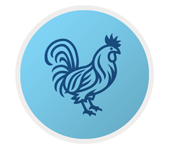 CHICKEN
The target for the broiler chain is that, by 2028, 100% of the products under the Qualitá and Taeq private-label brands follow the global animal welfare trends, which will be detailed in GPA's Animal Welfare Policy. As for other brands, the Pão de Açúcar chain undertakes the commitment to double the share of sales of products sourced from supply chains that value animal welfare.